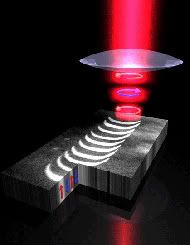 Σκληροί δίσκοι με τεχνολογία laser
είναι το επόμενο τεχνολογικό στοίχημα και ήδη ερευνητικό κέντρο [Radboud University, Nijmegen] στην Ολλανδία έχει ήδη καταφέρει να γράψει πάνω σε μαγνητικό δίσκο δεδομένα, χρησιμοποιώντας laser, πράγμα που αντανακλάται στην ταχύτητα εγγραφής των δεδομένων που πρακτικά διπλασιάστηκε!Η τεχνική λειτουργεί επειδή τα φωτόνια που διαβιβάζονται από το λέιζερ φέρνουν πραγματικά τη γωνιακή ορμή, που τους επιτρέπει να αλληλεπιδράσουν με το σκληρό δίσκο.
The technique works because the photons transmitted by the laser actually carry angular momentum, allowing them to interact with the hard drive. Also, each laser pulse heats a tiny space on the disk just enough to make changing its polarity--thereby storing a bit of data--a little easier. The key is reversing the polarity of the laser pulses, which can produce the equivalent of either a 1 or a 0 of binary code on the disk storage medium.
[
Via
]