Samsung Creates First LCD with DisplayPort Video Interface
Samsung Electronics Co., Ltd., the world's largest provider of thin-film transistor liquid crystal display (TFT-LCD) panels, announced today that it has developed the world's first LCD panel using the next-generation video interface –
"DisplayPort."
Sanctioned by VESA (the Video Electronics Standards Association),
DisplayPort will serve as a replacement for DVI, LVDS and eventually VGA.
Καινούργιο πρότυπο δηλαδή στον τρόπο σύνδεσης με τον υπολογιστή ...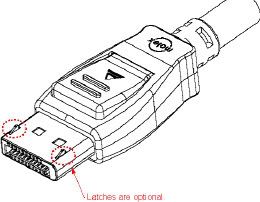 Terminology:
DisplayPort:
This interface technology supports both internal (e.g. for notebook PCs) and external (box-to-box) connector links between PCs and monitors. DisplayPort has a scalable AUX channel for two-way communications, embedded clocking for higher speed, fewer wires, reduced electromagnetic emissions, and a micro-packet architecture for flexible design configurations. Its transmission range is wider than that of other interface standards and can be easily expanded. Besides Samsung, Display Port also is supported through VESA by many PC integrators, graphics chip makers, timing controller silicon makers, and the world's leading producers of digital connection devices.
[
Press Release
]