Ασφάλιση κατά λάθος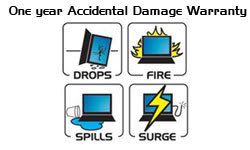 μας προσφέρει η
ASUS
και αυτό που διαπραγματεύεται είναι η ασφάλιση του notebook μας από λάθος χειρισμό: φωτιά, πέσιμο κατά λάθος, να πέσει νερό πάνω, ηλεκτρική υπερφόρτιση. Ολα αυτά θα μπορούν να ασφαλιστούν για notebook που θα πουλάει η ASUS aπό 10 σεπτεμβρίου και μετά.
Now, ASUS is leading the industry again to provide ASUS notebook users with one year Accidental Damage Warranty (ADW) Program free of charge**,

if your ASUS notebook computer is purchased on or after Sept. 10, 2007.
[
Details
]