802.11n Game Router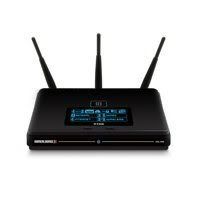 από την D-Link. O
D-Link Xtreme N Gaming Router

(DGL-4500) σχδιάστηκε από την αρχή με βάση να παρέχει πολύ καλή ποιότητα και ταχύτητα δεδομένων [Gigabit Lan] στα παιχνίδια [και τα LAN-PARTY]. Για να μην έχετε ---lag--- λοιπόν, να το προϊόν σας ...
GAMEFUEL PRIORITY

Nothing ruins a frag-fest faster than lag. GameFuel allows you to customize your network settings to prioritize game traffic so your roommate doesn't hog all the bandwidth while downloading tracks from his favorite 80's hair band.
[Product Page]