Νέα Graphics Πλατφόρμα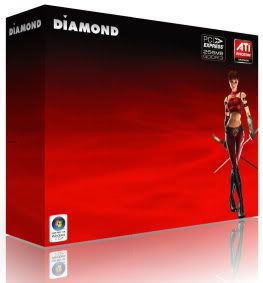 επιτρέπει να μπορούν να χρησιμοποιηθούν διαφορετικές κάρτες γραφικών σε motherboard όπου πριν δεν θα είχαν καλές επιδόσεις όπως π.χ. Diamond Radeon graphics cards να τρέχουν σε CrossFire™ on Nvidia, Intel, ή AMD chipsets.
Επίσης η
Diamond xDNA software platform
θα προσφέρει την δυνατότητα να παίζουμε παιχνίδια σε Wide Format με το Diamond HD Game technology.
The Diamond xDNA technology delivers immersive gameplay for Windows Vista™, OpenGL and DirectX® 10, while allowing for easy XFusion & multi-GPU upgradeability. The bottom line is that it enables users to run the hottest titles of today and tomorrow. Delivering a fully loaded HD feature-set, including support for ATI Avivo™ HD, HDMI connect ability, HD Audio and Blu-ray™ / HD DVD decoding, Diamond's xDNA eclipses the demands of the performance hungry HD gaming desktop by providing fully optimized drivers and middleware.
[Product Page][Via]