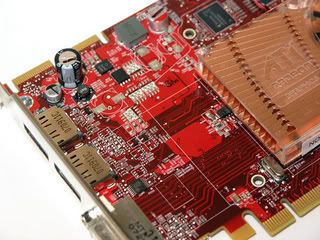 H
Asus
μόλις κυκλοφόρησε τις νέες της κάρτες γραφικών με υποστήριξη στο νέο πρότυπο
Display port
. To DVI, όπως φαίνεται από την φωτό είναι παρόν αλλά γνώμη μου είναι ότι πάμε σε νέες αλλαγές. Η
RV635 XT
είναι προ-άγγελος αλλαγών σε κάρτες και οθόνες, με ένα πρότυπο που θα είναι ανταγωνιστικό προς το HDMI αφού έχει την δυνατοτητα μεταφοράς και ήχου .
The technology is eventually intended to replace DVI and VGA connections, and may well produce competition for HDMI, in part because it is

also capable of 24-bit, eight-channel audio

. DisplayPort connections also contain a dedicated auxiliary link, which can be used for panel I/O and mic connections.
[
Via
]