Μέχρι τώρα χρησιμοποιουσα το
Foxmark
για το συνχρονισμό των bookmark μου σε όλους τους υπολογιστές που χρησιμοποιώ [4]. Το
Μοzilla Foundation
ανακοινώνει το
Weave
που είναι σε θέση, όταν το εγκαταστήσεις σε 3-4-5... υπολογιστές να έχεις ίδια bookmark, password, ιστορικό και γενικά ότι περιλαμβάνει ένας firefox - και να έχεις την δυνατότητα ενός αρχικού σταδίου socialising αφού μπορείς να μοιράζεσαι τα δεδομένα σου με φίλους και οικογένεια ή συνεργάτες!!
Θέλει κανένας τα δικά μου .........?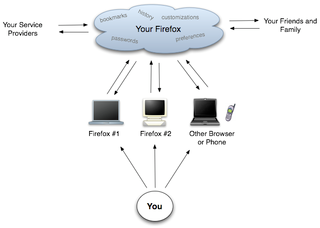 We intend to provide the infrastructure and an consistent model for how a user can open up their browser metadata to friends and third-party applications.
Είναι ακόμα σε αρχικό στάδιο και βασικά πρόκειται για μια βάση που θα χτιστούν πολλά πάνω της! Αραγε πάμε σε καινούργιο social network στυλ facebook ...?
Get Weave
* Install
Weave
v0.1 for Firefox 3.0b2pre or greater, Windows/Mac/Linux