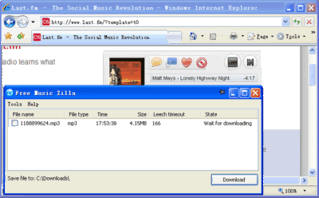 To
Last.fm
καθώς και άλλα όμορφα online audio social sites προσφέρουν την δυνατότητα να ακούς μουσική. Το
Free Music Zilla
σου επιτρέπει να κατεβάζεις μουσική από αυτά τα site!! Την στιγμή ακριβώς που παίζει το κομμάτι, το πρόγραμμα τρέχει παράλληλα και σου επιτρέπει να το κάνεις δωρεάν download!!!! Δεν ξέρω πόσο θα το αφήσουν! Δεν ξέρω πόσο θα το κυνηγήσουν αλλά για την ώρα είναι εδώ και διαθέσιμο ...
Key Features
Download music from Last.fm, IMEEM, Pandora and more social music!
Support all web browser like IE, Firefox, Opera, Maxthon, Avnta, Netscape!
Super light, micro-sized and resource-friendly!
Free! No adware! No spyware!
[
Κατεβάστε το
]