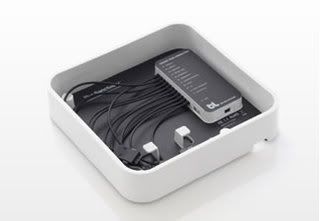 Εκανα μια παράφραση του φορητότητα και το συνδύασα με το βολικό γιατί το συγκεκριμένο gadget, για κάποιον που ταξιδεύει είναι
Must
.
How It Works
01. Plug AC adapter (100v ~ 240v) into the mains, lift inner tray and plug the adapter into The Sanctuary power socket.
02. Select your device connector(s). Replace inner tray with selected connector(s) on top of the inner tray.
03. Plug in your electronic devices and charge. Add keys, wallet and watch as desired.
[
Product Page
]