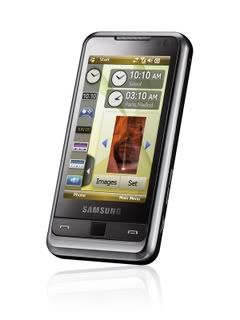 Τουλάχιστον εντυπωσιακό το καινούργιο
Samsung i900
, σαφώς θυμίζει το iphone [το έχω δίπλα μου και είναι σχεδόν ίδιο] και μας δείχνει με τα χαρακτηριστικά του ότι τα smartphones έχουν πολύ δρόμο ακόμα μπροστά τους και μια και είναι αποτέλεσμα συγχώνευσης κινητών με φορητούς έχουν και πολλά να δώσουν ακόμα. Το μόνο που χρειάζεται είναι η σμίκρυνση της τεχνολογίας. Χαρακτηριστικά:
3.22" screen with 400x240 resolution,

5Mpix camera

(wth smile detection and geo tagging), a

GPS receiver

, and runs on Windows Mobile 6.1. The i900 will be

quad-band

GSM/EDG ,

3G/3G +

compatible (up to 7.2 Mbps), WiFi 802.11 b/g, and Bluetooth 2.0 EDR.
[
Via
]