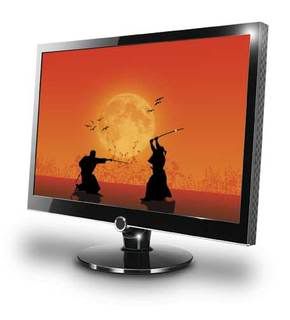 Οθόνη που αποτελεί κανονικό Multimedia συστημα ΚΑΙ ΔΕΝ ΧΡΕΙΑΖΕΤΑΙ ΥΠΟΛΟΓΙΣΤΗ, όπου μπορει κάποιος να παρακολουθεί ταινιες [mpeg1-2-4], να βλέπει εικόνες σαν κανονικό digital frame [JPG, TIFF, PNG, BMP, and GIF] να ακουει μουσική, με κανονικό ενσωματομένο media player , με card reader ενσωματωμένο και usb hub . To design είναι από τα καλύτερα που έχω δει σε οθόνη.
AAAA! Συνδέεται και με Pc σαν οθόνη!!
"HD3 defines a new category in high definition displays with its built-in media player, allowing consumers, for the first time, to view movies without the use of an external DVD player or PC. With the 2230Fm, simply load a film onto a memory device, plug it into the display and use AOC's proprietary, user-friendly menu and remote control to enjoy a movie PC-free. AOC's first HD3 Display is the 2230Fm, a combination of multi-functional high-definition video capabilities and stylish, 360° design that provides a stunning array of features all developed to cater to the digital needs of today's consumers."
[
Via
]