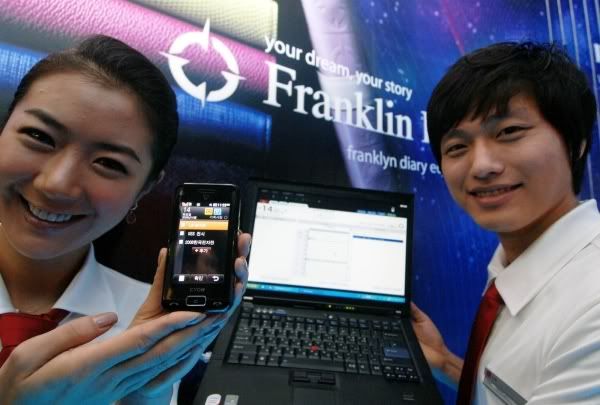 Το καινούργιο κινητό της LG [
LG-SU100
] έχει μια τεράστια, για κινητό, οθόνη 3 ιντσών με δυνατότητες full touch και προορίζεται για πολυάσχολους businessmen, λέμε τώρα γιατί τα πιο φευγάτα κινητά τα έχω δει στα πιο απίθανα χέρια. Πάντως για όσους ενδιαφέρονται έχει ένα πρόγραμμα διαχείρησης χρόνου, το
Franklin planner
. Επίσης έχει 3 mgpixel κάμερα, ηλεκτρονικό λεξικό,
S-DMB
, global roaming, Bluetooth, web viewer.
The

Franklin planner

, a time management system, consists of a ring binder holding specially designed loose leaf pages. Divided by monthly tabs between the pages and accepting a wide variety of specialized accessories and inserts, the core idea is to consolidate tasks and appointments along with personal records in one place, methodically eliminating floating pieces of paper.
[
Via
]