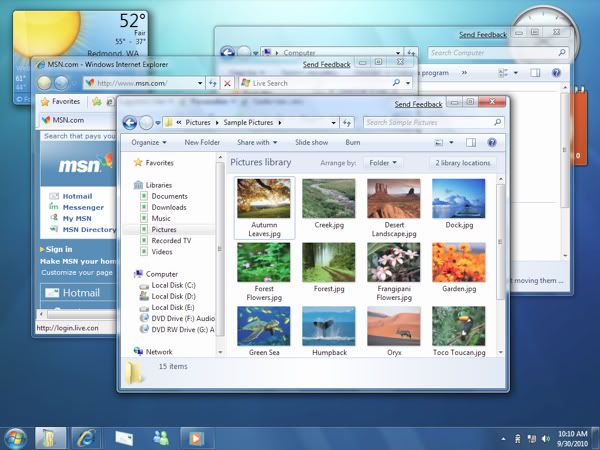 - Θα υποστηρίζουν 256 cpu!
---"Τι επεξεργαστές ετοιμάζει η intel ??"
- Θα έχουν μεγαλύτερο start menu [25%] για να μπορουν να δουλεύουν άνετα με το άγγιγμα του δακτύλου! - Εχουν εκτεταμένες δυνατότητες στο task bar με ενσωματομένο player.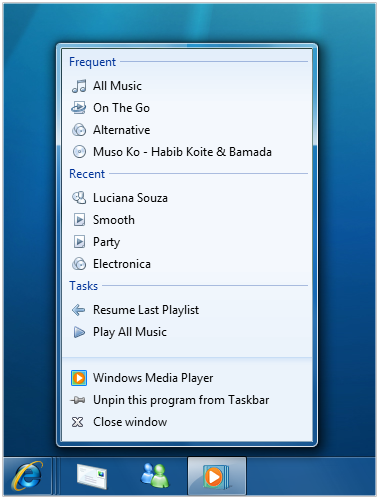 - Πλεον ξεχνάμε την sidebar και τα widgets θα υπάρχουν παντού στο desktop. - Μεγαλύτερη ευελιξία στο Access Control και πολλές επιλογές για την πρόσβαση σε αρχεία και προγράμματα. - Το περιβάλλον έιναι multi-touch [αν και είμαι περίεργος πως θα δουλεύουμε με τα δάκτυλα, ήδη ο κόσμος πάντως εξοικιώνεται στην touch λειτουργία με το iphone] - Θα υπάρχει άνετη διαχείρηση για πολλές οθόνες. - Το media center θα μοιαζει με το μενού του Zune. - Οσες εφαρμογές τρέχουν στα Vista θα τρέχουν χαλαρά και στα Windows 7. - Θα υπάρχουν
internet printing
και
online print ordering
για να μπορούμε να στέλνουμε εκτυπώσεις μέσω ίντερνετ σε άλλους υπολογιστές. - Θα υπάρχει
Driver protection
για να προστατεύει το pc από κακής ποιότητας drivers, που πιθανόν έχουν αναφερθει και θα υπάρχει database γι αυτό.
Ταυτόχρονα ας λάβουμε υπ όψιν και τα νεα στοιχεία που θα έχει στο
Windows Vista SP2
:
Support for Bluetooth 2.1.
Support for ICCD/CCID smart cards.
Support for native

Blu-Ray

media recording.
Windows Connect Now (WCN), a new tool to assist in connecting to Wi-Fi networks.
ex-FAT file system, supporting UTC timestamps to ensure correct file synchronization across time zones.
Windows Search 4.0 integration.
Improved support for resuming with active Wi-Fi connections.
Να κάνουμε και το σταυρό μας βεβαίως να χρειάζονται λιγότερα resources για να τα κάνουν όλα αυτά, αλλιώς
θα μας κερνά καφέ η μικρομεγάλη μέχρι να ανοιξουν τα 7άρια
. Το χρονοδιάγραμμα από ότι ακούγεται τα φέρνει κοντά μας στο 2010.
[
Via
][
Via
][
Via
][
Via
]