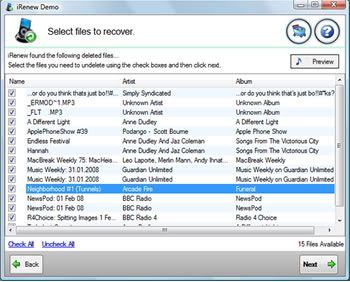 Ενα σημαντικό πρόγραμμα για να αναιρέσει την χαζομάρα της στιγμής: κι αν διαγράψετε τη μουσική από το ipod σας, τι κάνετε? Δεν είναι δωρεάν, [19,99$] αλλά είναι σημαντικό να ξέρετε ότι υπάρχει.
Recovers MP3, M4A, M4V and M4P files.
Recovers files you have purchased from iTunes store.
Recovers files from CDs you have ripped yourself.
Select which files you want to recover.
Play music files in advance of recovering it.
Options available on where to save recovered files.
Options to select to save files in Artist / Album sub folders.
Option to prefix file names with artist and album name.
Extensive help and step-by step instructions available in program.
[
IRenew
]