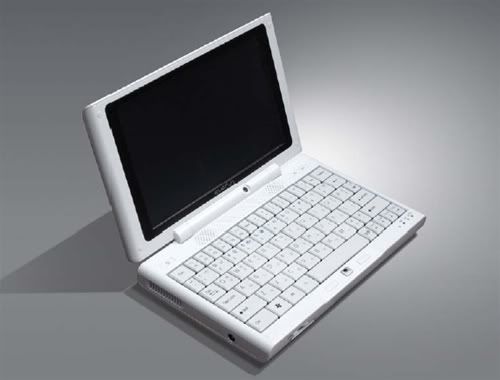 Στην αρχή δεν είχα πάρει σοβαρά τα netbook, όχι γιατί δεν είναι χρήσιμα αλλά γιατί δεν μου επαρκούν. Ακόμα - για μένα μιλάω πάντα- έχω κάποια μινιμουμ που δεν μπορώ να αγνοήσω. Π.χ. να έχει πάνω απο 80GB δίσκο. Δεν μπορώ πλέον να δουλεύσω με τίποτα μικρότερο. Στην
προκειμένη περίπτωση
όμως τα πράγματα γίνονται καλυτερα αφού οι διπλοπύρηνοι μπαίνουν στην σφαίρα των netbook και αυτό ειναι ΚΑΛΟ. To θέμα είναι αν σας φαίνονται πολλά για netbook 659$.
The netbook is powered by a AMD Turion 64 X2

Dual Core CPU

at 1.2GHz and ATI graphics. Weighing at only 1.6-pound, the Everun Note comes equipped with a 7-inch touchscreen display (1,024-by-600), up to 24GB of solid state drive or up to 80GB of hard drive space, and 1GB of DDR2 memory. Other specs are include a 1.3MP webcam, stereo speakers, 802.11b/g wireless, Bluetooth, two USB ports, a Mini USB port, SIM card slot, SD/MMC card reader, and VGA output.
[
Via
]