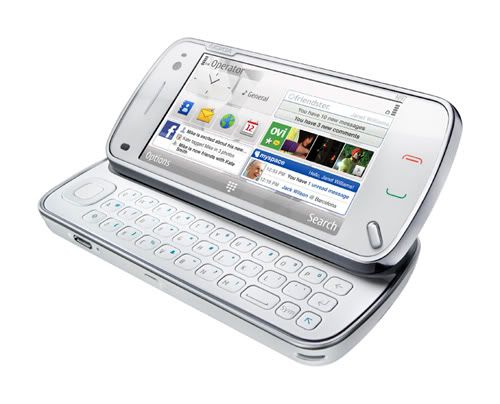 Το καινούργιο και ακόμα-δεν έφτασε-είμαι-υπέροχο κινητό της Nokia έρχεται, μοιάζει πολύ με το Sony Xpedia [σε σημείο βρασμού θα λεγα] και υπόσχεται πολλά καλούδια. Με μεγάλη οθόνη touchscreen θ'ελει να γίνει χαλίφης στη θεση του iphone. Να μαθουμε και τα υπόλοιπα χαρακτηριστικα. Δεν 'ν κακό. Και τα πρώτα χαρακτηριστικά από το νέο μέλος της οικογένειας Nokia:
Touch display που γλιστραει και αποκαλύπτει full QWERTY keyboard.
Symbian S60 5th Edition operating system with touch enhancement.
Assisted GPS assisted with Nokia Maps.
5 megapixel camera with dual LED flash and Carl Zeiss lens.
The N97 is 3G with HSDPA, Wi-Fi, A2DP Bluetooth and 32GB of onboard memory, plus a slot for another 16GB via MicroSD card.
Tvout
Fm radio.
WideScreen 16:9
Μπαταρια 37 ωρών!!
[
Via
][
Via
]