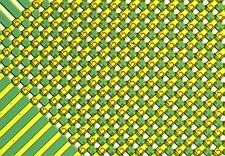 Οι μνήμες και ο τρόπος λειτουργίας και κατασκευής είναι από τα θέματα που απασχολούν πάντα έναν
geek
που σεβεται τον εαυτό του. Γενικά στις συσκευές που χρησιμοποιουμε, τις έχουμε σε καθημερινή ζήτηση και χρησιμοποιηση: pc, φλασάκια, φωτογραφικές μηχανές ακομα και σκληρους SSD δίσκους, πια. Είναι φυσιολογικό λοιπόν οι επιστήμονες να προσπαθούν να κατασκευάσουν την επόμενη γενιά μνημών.
H Επόμενη γενιά μνημών αναμένεται λοιπον, να κατασκευαστεί με πρότυπο το πλέγμα [
Crossbar Architecture
]. Μια συστοιχία απο κελιά μνημών που θα γίνονται "σαντουιτς" απο δυο σειρές παράλληλων αγωγών. Με αυτό τον τρόπο εξοικονομείται χώρος για να γίνεται η βασική λειτουργία των μνημών: μπορούν να αλλάζουν τα κελιά των μνημών σε 0 ή 1 από τους αγωγούς. Το βασικό πρόβλημα σε μια τέτοια λειτουργία δεν είναι τα κελιά των μνημών αλλά ο τρόπος [π.χ. η γωνία που θα έχουν οι αγωγοί σε σχέση με τις μνήμες] καθώς και τα υλικά που θα χρειαστούν για να επιτευχθούν καλύτεροι χρόνοι και ποιτικότερη λειτουργία στις νέες μνήμες. Εκεί υπάρχει ήδη το project
Versatile
, που σαν στόχο έχει την ολοκλήρωση του crossbar architecture.

An array of tiny memory cells, made from materials such as nickel oxide, can be sandwiched between two sets of parallel conductors, at right angles to each other, so that a voltage can be applied to any cell. This is known as crossbar architecture.
One of the most promising is based on 'phase change' or 'resistive change' materials. "These are materials in which you store information – zero or one – by changing the electrical properties," Tallarida explains. "They just need a voltage drop across them to be switched between an 'off' state and an 'on' state."
[
Via
]