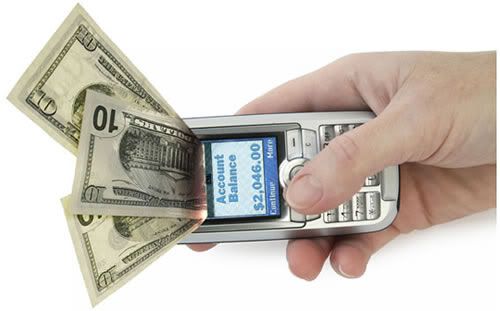 Η Nokia ξεκινά να προσφέρει μια νέα υπηρεσία -
Nokia Money
-, σε 24ωρη βάση παρακαλώ, μέσω τις οποίας είναι δυνατό να μεταφέρει χρήματα κάποιος σε κάποιον άλλο με μέσο το κινητό του!!!! Ακόμα κάποιος θα είναι σε θεση να μπορεί να πληρώσει για αγαθά και υπηρεσίες ή λογαριασμούς μέσω
προπληρωμένων SIM καρτών
. Μιλάμε δηλαδή για διακίνηση χρήματος μέσω κινητών, που είναι το επόμενο μεγάλο στοίχημα.
Nokia Money has been designed to be as simple and convenient as making a voice call or sending an SMS. It will enable consumers to send money to another person just by using the person's mobile phone number, as well as to pay merchants for goods and services, pay their utility bills, or recharge their prepaid SIM cards (SIM top-up).

Mobile payments

will be the next step for delivering financial services to hundreds of millions of people, both urban and rural, who are underserved by existing payment means, especially in emerging economies. Nokia is building a wide network of Nokia Money agents, where consumers can deposit money in or withdraw cash from their accounts. The Nokia Money service will be operated in cooperation with

Obopay

, a leader in developing global mobile payment solutions, which Nokia invested in earlier this year. The service is based on Obopay's mobile payment platform, with unique and newly developed mobile elements. Nokia intends the service to be open and interoperable with other payment services as well.
Η δική μου παρατήρηση:
Πολύ καλή υπηρεσία και θα βολέψει πολλούς αλλά το κινητό πλέον θα γίνει αντικείμενο αξίας ακομα μεγαλύτερης και οι κλοπές κινητών θα είναι σε ημερήσια βάση. Θα διευκολυνει πολύ καθώς είναι 24ωρη λειτουργια, είναι άμεση εξυπηρετηση, ειδικα σε ταξίδια θα βολέψει απίστευτα να κουβαλάς μόνο ένα κινητό με καλο φωτογραφικό φακό και την δυνατότητα να πληρώνεις με αυτό! H προσπάθεια ουσιαστικά είναι για να συνδέσουν τον τραπεζικό τομέα με την ευκολία των κινητών και να αποκεντρώσουν την κίνηση των τραπεζών αυξάνωντας τα κέρδη και μειώνοντας τα λειτουργικά έξοδα, αφού ο κόσμος θα θέλει λιγότερους υπαλλήλους για να εξυπηρετηθεί στις τραπεζες. Από την άλλη η nokia κερδίζει σε πιστούς καταναλωτές αλλά και από την υπηρεσία Obopay πάνω στην πλατφόρμα της οποίας θα βασιστεί το εγχείρημα. Στην Obopay είχε επενδύσει νωρίτερα φέτος, η Nokia. Ενδιαφέρον το θέμα. [
Nokia Press
][
Photo Via
]