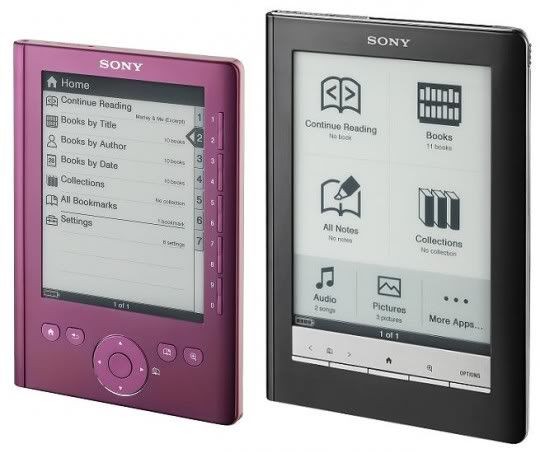 Τα καινούργια διαβαστήρια της Sony [πλέον ανακοινώθηκαν επίσημα] στοχεύουν το μεν
PRS-300 Reader Pocket Edition
στην χαμηλή-καθημερινή αγορά γι αυτό και δεν έχει πέρα από ένα συμπαθητικό design, εξωτικά χαρακτηριστικά - ενω το
PRS-600 Reader Touch Edition
είναι ταγμένο για να μας τρελάνει . Το PRS-300
έχει μεγεθος 5 ίντσες [199$] και το
PRS-600 έχει 6 ίντσες [299$]. To καλό που έχει το PRS-600 είναι η οθόνη αφής που πραγματικά σου επιτρέπει να γυρνάς φύλλα και να κρατας σημειώσεις με το δάκτυλο, ενώ το PRS-300 βασίζεται σε e-ink!
The Reader Pocket Edition sports a five-inch electronic paper display packaged in a stylish chassis and is available in a variety of colors, including navy blue, rose and silver.
The Reader Touch Edition features a responsive, menu-driven six-inch touch screen panel that enables quick, intuitive navigation, page turning, highlighting and note taking with the swipe of a finger or by using the included stylus pen.
[
Via
]