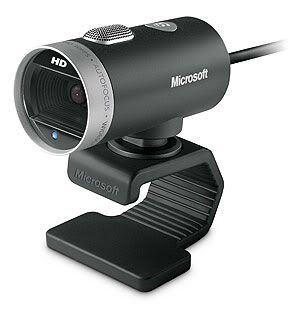 H Νέα web κάμερα της
Microsoft, Lifecam Cinema,
έχει την δυνατότητα να τραβά 720p high definition video σε wide screen μια και πλέον οθόνες και notebook είναι όλα σε wide κατάσταση 16:9. Επίσης μια νέα τεχνολογία,
Clearframe technology
, δίνει μια πιο καθαρή εικόνα με καλές ταχύτητες πάνω σε οποιαδήποτε ανάλυση. Στα πολύ θετικά οτι η ποιότητα δεν μειώνεται ακόμα και σε χαμηλό φωτισμό.
LifeCam Cinema

, the first consumer webcam on the PC to offer widescreen video with a native 720p sensor.

Microsoft's ClearFrame Technology

, which offers faster image processing technology to help deliver smooth video at any resolution and improved noise reduction technology to reduce image graininess and keep video sharp.
[
Press
]