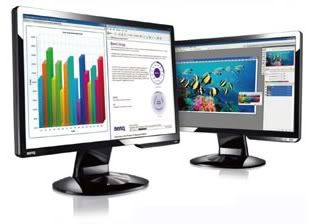 Εφτασε ο καιρός σιγα σιγά να γεμίσει η αγορά με
OLED
οθόνες και εφόσον βγαίνουν περισσότερα μοντέλα και από περισσότερες εταιρείες, θα δούμε και καλύτερες τιμές στο κουρμπέτι. Αντε παιδιά γιατι βαρέθηκα με τα 5000:1 contrast ενώ μπορούμε να έχουμε
5.000.000:1
. Θέλω ποιότητα ΕΔΩ και ΤΩΡΑ. Πάντως για να λέμε και την αλήθεια, τιμή ακόμα δεν τολμάνε να ανακοινώσουν . LOLOLOLOL.
G922HDL

is just one of the two models in the new LED-backlight G series. G920WL is the name of the second one, of 19 inches.

BenQ G922HDL

has a 1366×768 WXGA resolution while the

G920WL

has 1440×900 16:10.
[
Via
]