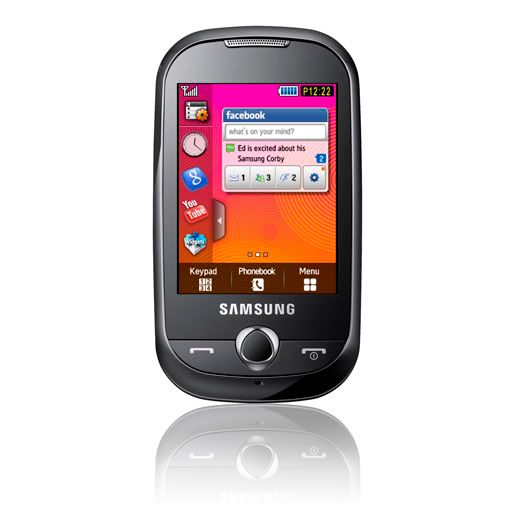 Ενα full touchscreen κινητό από την Samsung που στοχεύει στο νεανικό κοινό, το
S
amsung Corby (model: S3650)
, είναι προσανατολισμένο στα
social media
καθώς υποστηρίζει
facebook
,
myspace
,
twitter
αλλα δεν αναμένεται να ξεπεράσει τα 150 ευρώ, που σημαίνει ότι οι πλατείες θα γεμίσουν τρελαμένους πιτσιρικάδες που θα οργανώνουν τα beach freaking party σε λεπτά μέσα και από ... την καρέκλα του φραπέ, συνεπικουρούμενο από το κλεμμένο wifi του γείτονα. Well done, in digital habit.
The handset also supports various community sites by integrating leading user-generated content sites such as

YouTube

,

Flickr

,

Picasa

and

Photobucket

and other

popular SNS sites

directly into the handsets user interface. Users can upload photos and videos to these sites through this Communities solution.
Samsung Corbys specs
2.8-inch QVGA screen
new Touchwiz UI and haptic feedback system
social networks support, such as Facebook, Twitter and MySpace
bold color options such as Jamaican Yellow, Cupid Pink, Minimal White, and Festival Orange [καλα το τζαμαϊκα κίτρινο ... τα σπάει! LOL]
interchangeable back covers
additional applications through the Samsung online widgets store
"one finger zoom" and "smart unlock"
[
Press
]