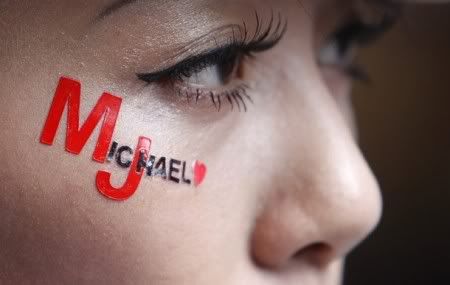 Η ταινια This is it του M.J. που πλέον χορεύει και τραγουδά με τα αγγελάκια κάνει πιο πλόυσιους τη Sony και τους κληρονόμους του! Τα στοιχεία ως τώρα της ταινίας:
$2.2 million domestically in its opening night
$12 million dollar opening day
This Is It opened simultaneously in 95 different countries
Prediction: $250 million in its first five days of release alone
Sony sure scored with their $60 million purchase of the concert footage from Michael Jackson's rehersals before his concert tour.
"evening show times" in 96 IMAX digital theatres.
A key part of the IMAX DMR process includes re-mastering the soundtrack to take advantage of IMAX's 14,000 watt digital audio system."
IMAX screening will sound "10 times more" dynamic range than average systems in regular theater
Sony had the star-studded red carpet premiere online at the Nokia Theater in LA at thisisitpremiere.com, which I noticed at one point had 150000+ viewers.
[
Via
]