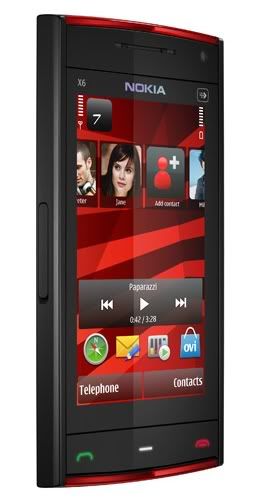 Είναι νέο, όμορφο, με οθόνη αφής, σου επιτρέπει να κατεβάσεις πολλή πολλή μουσική ΔΩΡΕΑΝ και χτυπά τα καταστήματα μέσα στη βδομάδα. Ηδη βρεταννία και Φιλανδία θα πρέπει να στολίζουν βιτρίνες με δαύτο. Είναι σημαντικό: έρχεται με προπληρωμένη συνδρομή ενός χρόνου στο Nokia music store για απεριόριστο κατέβασμα τραγουδιών!!!
Bundled with one year unlimited access to the Nokia Music Store track catalog
quad-band GSM and tri-band HSDPA support
434 MHz ARM 11 processor
128MB of RAM
32GB of internal storage and no memory card slot
Symbian OS v9.4
3.2-inch (360x640) touchscreen
5 megapixel camera with Carl Zeiss lens
dual LED flash
Accelerometer, GPS, WiFi and Bluetooth
FM radio
Pre-loaded with three games - EA's Spore, and the Gameloft-developed Asphalt4 and DJ Mix Tour.
[
Via
]