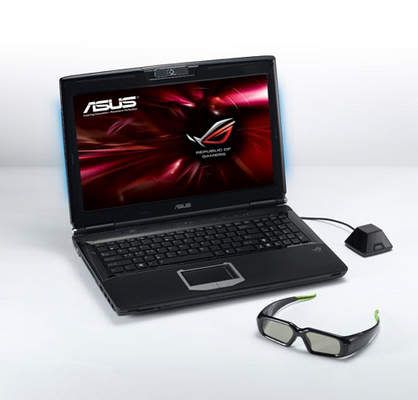 Η Asus παρέα με την Nvidia παρουσιάζουν ένα νέου τύπου φορητό υπολογιστή που έρχεται με 3D γυαλιά και αντίστοιχο software που σου επιτρέπει να παρακολουθείς τρισδιάστατο λειτουργικό σύστημα και εφαρμογές! Το
Asus G51J3d
έχει ένα πάνελ στα 120hz, ικανό για 3d vision και έρχεται παρέα με 3D Vision active-shutter γυαλιά, που ο συνδυασμός τους σκοπεύει να φέρει το 3D gaming στα φορητά [transforms PC games into "full stereoscopic 3D experiences." ]!
ASUS G51J 3D Specifications:
Processor: Intel Core i7-720QM 1,6 GHz overclocked Turbo Boost up to 2,8 GHz
Operating system: Windows 7 Maximum / Home Extended (64-bit)
Chipset: Intel PM55 + ICH9M
System Memory: DDR3 1066 MHz up to 4 GB
Display: 15.6-inch HD-display with LED backlight (1366 x 768 pixels, 60/120 Hz)
Graphics: NVIDIA GeForce GTX 260M with 1 GB of VRAM DDR3
Hard disk: support for two disk drives for SATA, 320/500 GB (7200 rpm), 250/320/500 GB (5400 rpm)
Optical drive: Multiformat DVD-drive or combo drive Blu-ray
Video camera: 2 megapixel
Dimensions: 375x265x34 ,3-40, 6 mm
Weight: 3,3 kg (with 6-cell battery and a hard drive)
The Asus laptop will have an Intel Core i7 @ 1.6 GHz, a GeForce GTX 260M GPU, and a 15.6-inch screen running at a native 1366 x 768 resolution. The laptop can also provide up to 4 GB of RAM, and storage options ranging between 250 GB and 500 GB. For optical drives, Asus offers both DVD and Blu-ray.
[
Via
]