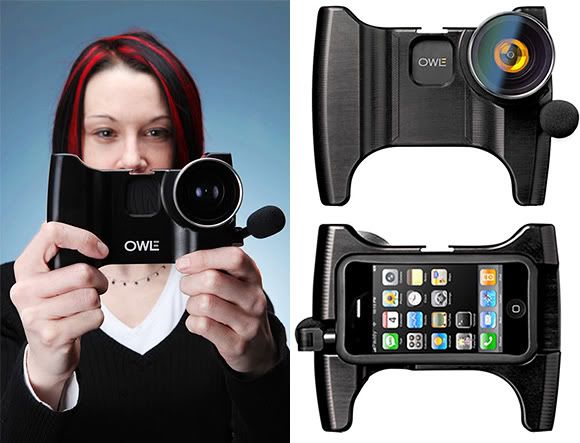 Εχεις ένα iphone, αν δεις την
φωτογραφία
που τράβηξα πέρσυ στο Las Vegas από το δωμάτιο μου στο ξενοδοχείο Paris θα καταλάβεις ότι μπορεί να βγάλει και καλές φωτό και καλό βίντεο. Οσον αφορά το βίντεο, θέλει σταθερό χέρι. Η εταιρεία OWLE έβγαλέ μια σιλικονάτη ειδική θήκη που σου επιτρέπει να μετατρέψεις το iphone σε κανονικό εργαλείο για βιντεοσκοπήσεις. Περιλαμβάνει ένα καλύτερο μικρόφωνο και ένα ευρυγώνειο φακό 37mm για να βελτιώσει τις δυνατότητες του iphone!!!
The

OWLE iPhone Video Mount

($130) provides a ergonomic solution for holding your iPhone while capturing video. The iPhone iPhone 3G or 3GS fits inside included silicone case, then slips into the mount itself, and even includes a boom mic which attaches to the iPhone's headphone jack for capturing slightly better audio. It also comes standard with 37mm lens threading, as well as a 0.45x Wide angle/macro combination lens.
[
Via
]