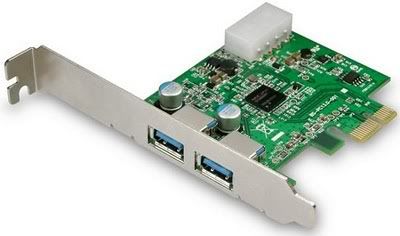 Mια και πιάσαμε το
USB 3.0
: Και για όσους έχουν παλιό Mobo και δεν έχει θύρα usb 3.0, να σου και πλέον έχουμε την δυνατότητα να βάλουμε μια καρτούλα με τρελές ταχύτητες που να το υποστηρίζει και έναν εξωτερικό -αντίστοιχο- δίσκο και είμαστε έτοιμοι για το νέο πρωτόκολλο. Οι τιμές δεν είναι εξωφρενικές οπότε υπολογίζω σιγά σιγά να μπει το usb 3.0 στη ζωή μας και να μας διευκολύνει.
Computers with USB 3.0 so far are rare, and therefore also produces

ICY BOX IB-AC604, controller

, PCI Express x1, equipped with

two connectors USB 3.0

. In addition, USB 3.0 retains backward compatibility with previous generations of interfaces. New items go on sale in early 2010, recommended retail price of IB-318StU3-B is

45,50 euros

, IB-250StU3-B -

32,90 euro

, IB-AC604 -

39,90 Euro

.
[
Via
]