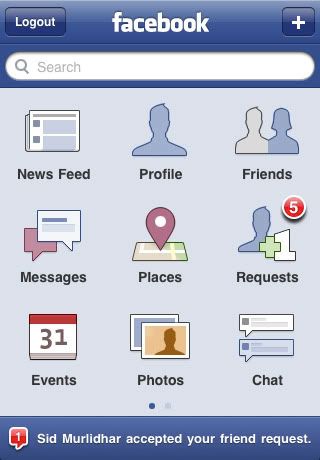 Η νέα τάση του να ξέρεις που βρίσκονται οι φίλοι σου αλλά να ξέρουν και που είσαι εσυ, παίρνει μεγάλες διαστάσεις καθώς μια αντίστοιχη υπηρεσία του δημοφιλούς
foursquare
, έρχεται να ανακοινώσει το facebook. Στην εφαρμογή του
facebook
για το iphone πλέον είναι διαθέσιμο ΑΛΛΑ δεν είναι ακόμα διαθέσιμο για όλους τους χρήστες και σε όλα τα μήκη και πλάτη της υφηλίου.
New features:
- Places. Use Places to see where your friends are and share where you are.
- You can set the privacy of individual status updates.
Είσαστε έτοιμοι να παρακολουθούν που ... βρισκόσαστε ???