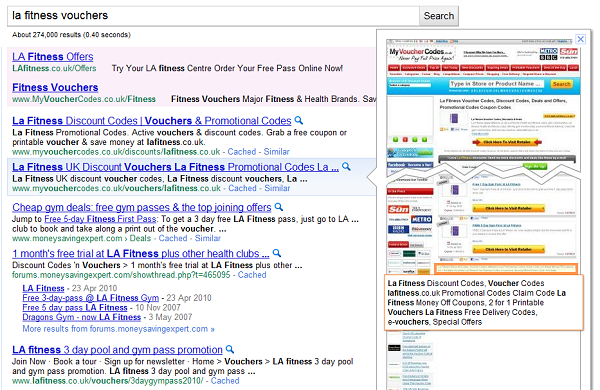 Η
google
κάνει δοκιμές πάνω σε ένα πολύ ενδιαφέρον χαρακτηριστικό:
full page preview
[να σου δείχνει ολόκληρη την σελίδα εκεί που κάνεις αναζήτηση]. Φαίνεται από την φωτό πολύ χρηστικό αν και ο τυχοδιώκτης μέσα μου λέει ότι χάνω εκείνο το τυχαίο που μπορεί να βρω ανοίγωντας μια λάθος σελίδα. Από την άλλη είναι πολύ χρήσιμο την καθημερινότητα μας.
Google is today testing a major new layout to their search results – full page previews of the target site and blue backgrounds behind the search results when you hover over them.
[
Via
]